Mount Deo Tibba summit Camp Expedition (13 Days) Through Manali
Starting from INR 60000
Mt. Deo Tibba (OR) Deo Tibba Peak is situated in the Pir Panjal range of mountains in the Kullu Valley / Manali region of Himachal Pradesh, India. At 6,001 meters, it is considered as the second highest peak in Himachal Pradesh after Indrasan (and one of the top 20 highest peaks in India). While Deo Tibba base camp 6 day trek is an easy one for trekkers, 13 day expedition to Mount Deo Tibba is considered a technical peak expedition and is well known among the mountaineers all across the world. As per the Hindu religion, Mount Deo Tibba is the assembly site of the gods. And the Devta's are believed to be sitting on this peak, while the Lord of war & weather - Indra, carries out meetings from his throne - Indrasan peak. Lord Indra is the controller of weather & also the Lord of the Devta's.
Duration

Group Size

Difficulty

Season
Mount Deo Tibba summit Camp Expedition (13 Days) Through Manali
**Expedition Info.** - Difficulty: 9/10 - Max Altitude: 6001 m - Duration: 12 Nights / 13 Days - Approx Trekking Km: 48 Km - Temperature in Summers: 20 to 25C day and falls to 5 to 7C at night - Temperature in Winters: 10 to 15C day and nearly 3 to 7C at night - Region: Manali, Himachal Pradesh **How To Reach Manali (Entry & Exit Point for Deo Tibbas Base Camp Trek)** By Air: The Nearest Airport Which Is 52 Km From Manali Is Bhunlar Airport. Cab Services Are Available Costing 700-1000 Rs From Manali. Bhuntar Is Well Connected By Delhi By Road: Manali Is Well Connected To Delhi You Can Take Overnight Bus From Delhi And You Will Reach Manali In 12-14 Hours. Tickets Can Be Booked Online **Basic Itinerary:** Day 1: Reporting at Manali Day 2: Manali Chikka, (12 km drive & 8 km trek) Day 3: Chikka – Seri Day 4: Seri - Chota Chandratal (Base Camp) Day 5: Acclimatization at Chota Chandratal (Base Camp) Day 6: Load ferry to Camp 1 from Chota Chandratal (Base Camp) Day 7: Chota Chandratal – Camp 1 Day 8: Load ferry to Summit Camp from Camp 1 Day 9: Camp 1 - Summit Camp Day 10: Summit Day Day 11: Reserved day for Summit Day 12: Descend to Chota Chandratal from Summit Camp Day 13: Chota Chandratal – Manali **Note:** - All programs are subject to change due to political reason, natural calamities, serious sickness, and special reasons. - Please note that cancellation charges also apply to reductions in group size, not only for cancellations of entire bookings. - Operator might be forced to change/modify the itinerary and also reserves the right to do so, due to unforeseen disruptions by natural forces. If any costs increase due to this change, the client would be requested to pay the additional amount in Manali.
The tour package inclusions and exclusions at a glance
Whats included in this tour
Items that are covered in the cost of tour price.
Accommodation and meals while on trek
All climbing equipment (ice-axe, climbing shoes, crampon, gaiter, helmet, carabineer, seat harness, rock piton, ice piton, fixed rope, climbing rope, Jumar, etc.
Mountaineering course certified Expedition Leader and Guide
Cook and Helper till Base camp
Mules for common equipments till base camp
All meals during the Expedition
All camping charges
Transportation from Manali to Khanol, and back to Manali
Whats not included in this tour
Items that are covered in the cost of tour price.
Conduct of the Trek
Camping on Trek: Spacious tents to be shared by 2 or 3 persons respectively. We will provide insulated mattresses and sleeping with a fleece sleeping liner for each to be used personally and returned at the end of the trek
Kitchen Tent: There will be a separate kitchen and dining tents. For a small group (for 2-6 people) we carry kitchen cum dining tents. The camp area will have a trash bag, a water point to drinking water and a washing point. Our staff will help with any task related to maintenance of the campsite and keeping things available.
Toilets on Trek: There will be toilet tents for trekkers. The toilets will be dry toilets where a pit will be dug and will contain a hump of mud inside and there will be mud try.
Utensils on Trek: Provision of utensils would be there for every trekker but we strongly recommend carrying lunch boxes for days when packed food needs to be given. Carry boxes which can be covered with a lid. We do not use plastic bag to pack the food and to be given to each trekker, as we make an effort to take minimum plastic in mountains making close to no environmental impact.
Expedition Leader: He will conduct the entire program and take decisions in consultations with the team and depending on the weather, snow and other situations on the ground
Local Staff: We hire local staff as our support crew like a cook, guide, kitchen helpers, porters, mule persons. These are expert in their fields and the region.
Meals: On treks, you will not be required to carry anything to eat apart from your personal trail food. Our meal program starts with morning tea, breakfast, tea/ coffee, hot lunch, evening tea with snacks, soup, and dinner.
Leave no Trace: We strictly follow leave no trace policies on any trek i.e. making zero impact on the environment like avoiding packed plastic foods. Camping on durable surfaces, minimize campfire impacts, disposing of waste properly.
Things to Pack
Backpack of 50-65 L capacity with rain cover
Day Pack 15 - 20 L - To carry your personal gear, camera, water bottle, trail clothing, packed food etc. (you will need this when you offload your larger pack onto a horse/porter)
Footwear
Trekking Shoes: Please do not wear sports shoes as on most treks as we go higher it gets harder to use the sports shoes. We recommend shoes with a good hard sole and also ankle support preferable waterproof.
Socks: 4-5 pairs of cotton socks and 1-2 pair of woollen socks (best to use when in camp. Not recommended while trekking)
Clothing
Pants: 2-3 pairs - Ideal is the quick dry lightweight synthetic pants. Alternatively, track pants are also comfortable to trek in. Avoid jeans
T-shirts 2-3 pairs (Preferably full sleeves)
Synthetic Fleece Jacket (1 pair)
Windproof/ Waterproof Jacket (1 pair)
Down-filled/Hollow fibre fill insulated Jacket (1 pair; optional but get this if you want to stay extra warm at camps)
Thermal liners (1 pair upper and lower, optional)
Accessories
Raincoat/Poncho: make sure it is something that will cover your daypack and camera too
Gloves: Lightweight synthetic gloves made of Fleece or you can also use woollen gloves
Sun Cap: 1
Sun Glasses with good UV protection is a must
Toiletries: Sunscreen SPF 30+, moisturizer, lip balm, soap, toilet paper
Repair Kit (needle and thread)
Headlamp/ Torch
Water Bottle: two bottles of 1 litre each
Trekking pole: Optional
Plastic packing covers. (Please pack all your gear in waterproof plastic bags so that your clothes etc. do not get wet while on horses or porters. Also, carry extra plastic bags in case you need to pack wet clothes)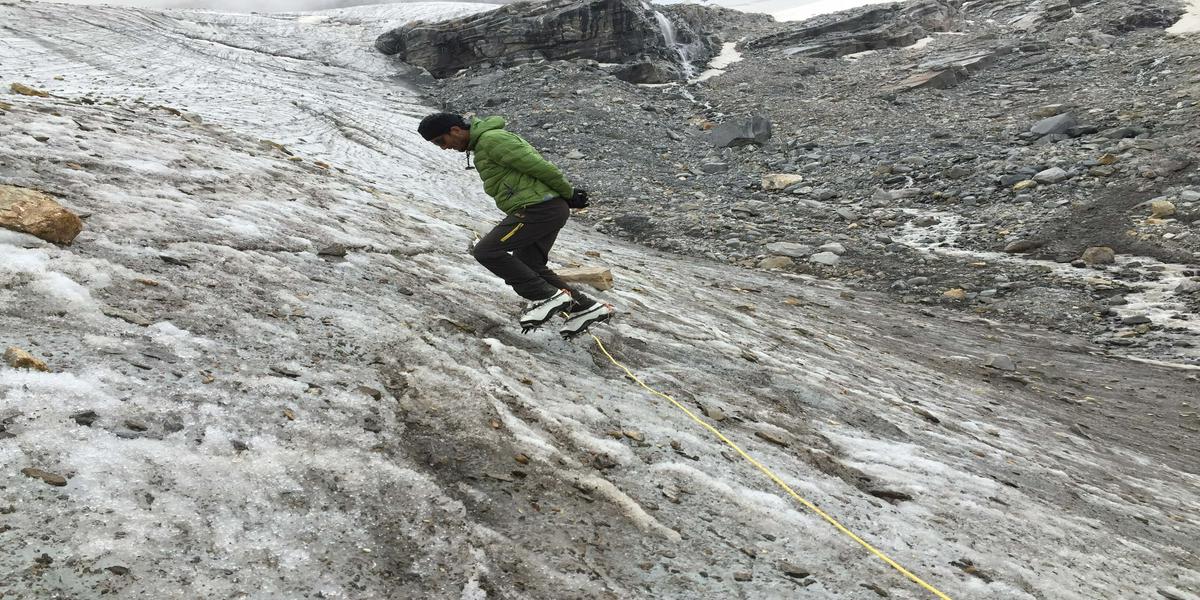 Deo Tibba peak expedition trekker trying to climb snow iced mountain
Deo Tibba Base Camp Snow Capped Peaks View
Deo Tibba Base Camp Trek Forest View on the Journey
Accomodation
Campaign and tents on shared basis through the 13 day trek
No accommodation in Manali (first day and last day)
Deo Tibba peak expedition tent camp at summit base camp 1
Deo Tibba peak expedition tent camp at summit base camp 1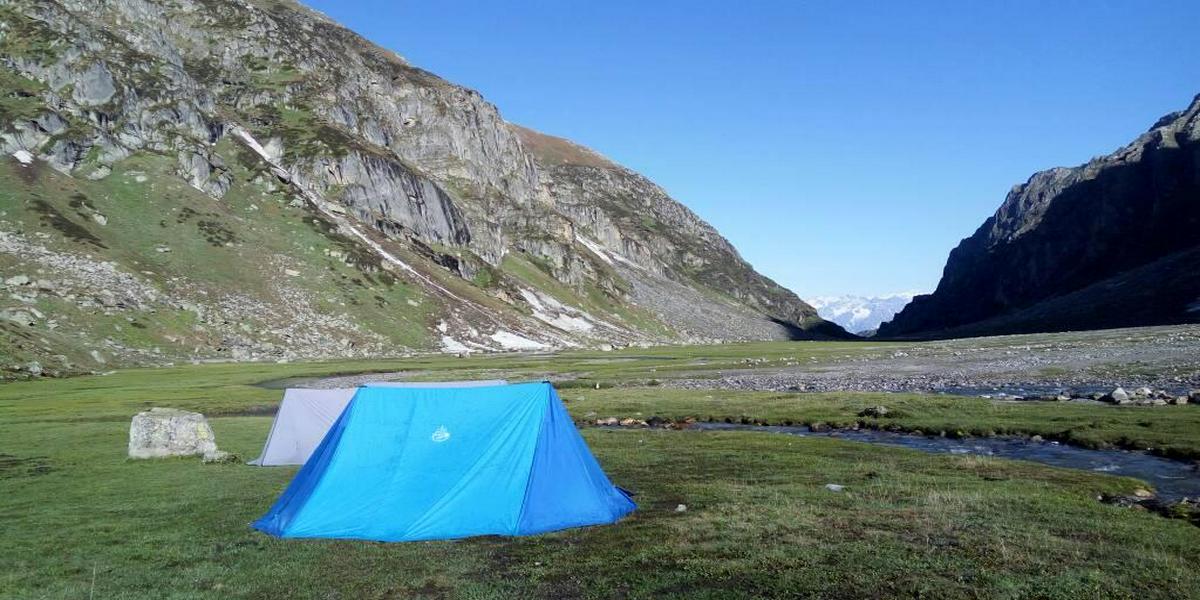 Deo Tibba Base Camp Trek Tent Camp at Chikka
Deo Tibba Base Camp Trek Tent Camp at Chikka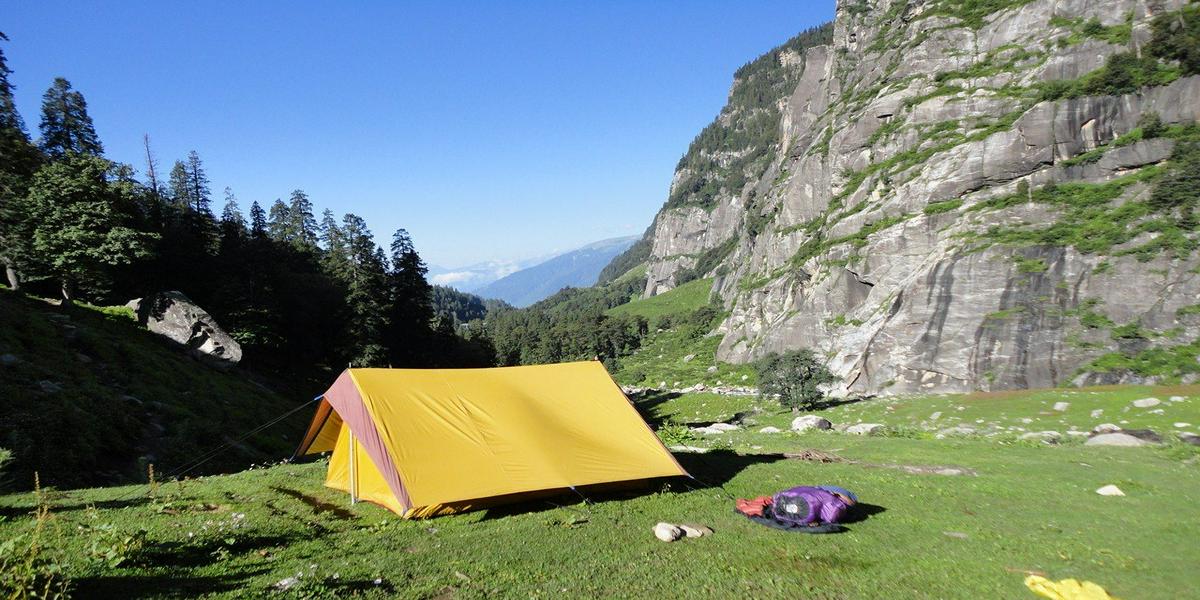 Deo Tibba Base Camp Trek Tent Camp alongside river streams
Deo Tibba Base Camp Trek Tent Camp alongside river streams