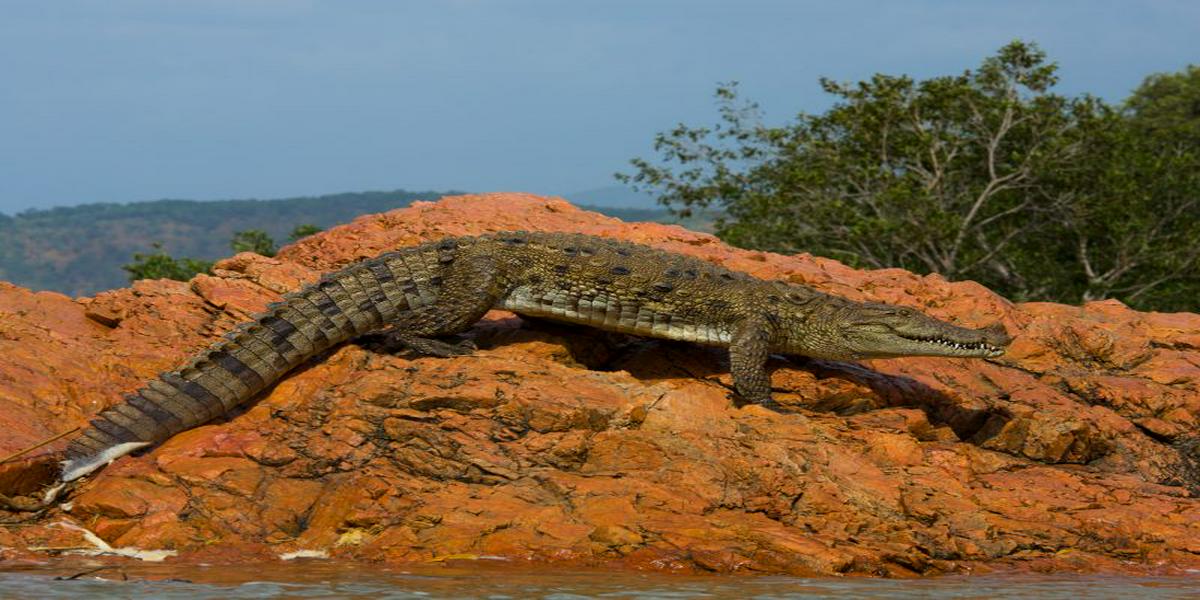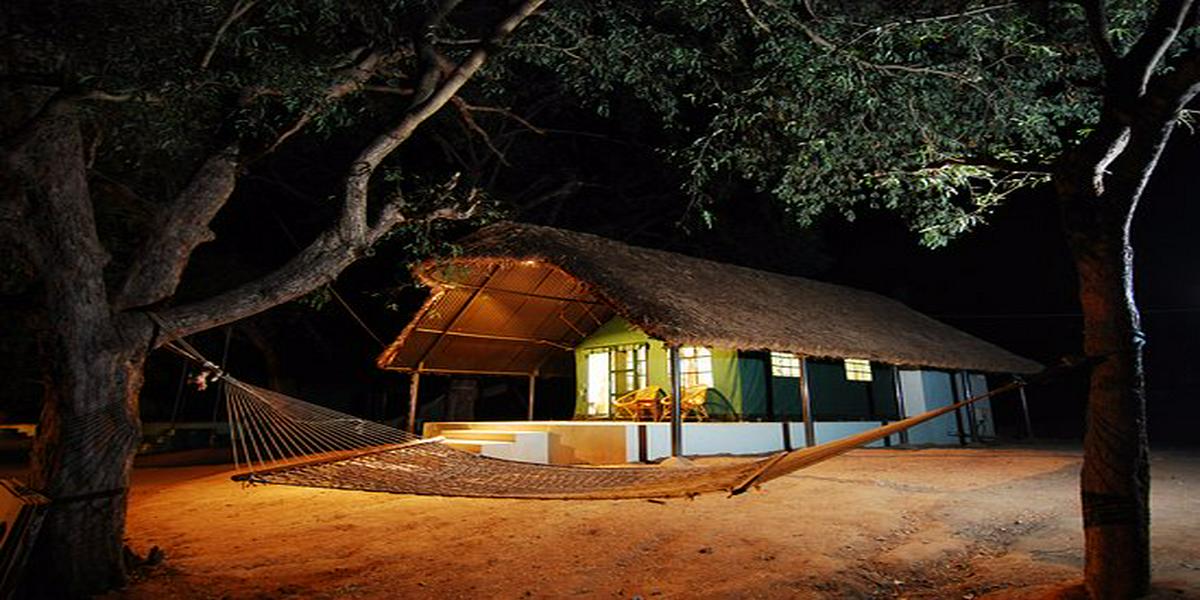 Galibore Nature Camp
Starting from INR 5470
For a true sense of escape, the Galibore Nature Camp, that lies deep in the deciduous forests on the banks of the River Cauvery is a good bet. Named after the windy hillock called Galibore that stands behind it, it lies truly isolated from what we call civilization. Surrounded by hills, here the wilderness takes on a deeper shade of green.
Duration

Group Size

Difficulty

Season
Galibore Nature Camp
The rapids that are characteristic of the Camp were once a favourite among anglers, vying for the masheer, also known as the tiger with fins. Though you can't fish in these waters, there are other experiences the Camp offers in plenty. An amazing wildlife experience, spotted deers, the endangered grizzled giant squirrel, marsh crocodiles, turtles and snakes await you at Galibore. Birdwatchers won't leave disappointed either, with over 230 species of birds including the Fish eagles, green pigeons, kingfishers, Owls etc.
Our naturalists and staff will only be pleased to give you pointers and help you discover the subtle facets of nature. Meal times here come with a huge serving of scenery. From the Gol Ghar, where meals are served, if you look carefully enough, you're sure to spot a good many birds.
Evenings with the barbecue by the riverside and the bonfire are bonding sessions, where our guests get to know each other. But if it's quiet you desire, you can choose to converse with the stars, reclined on a lawn chair or stretched out on a hammock until your grilled fish or chicken or vegetables arrive. Each tent has a hammock outside. For those who are looking for a little more boisterous activity, a safe tumbling net awaits. At Galibore, the agenda is quite simple – revel in the quiet of nature and return recharged.
The tour package inclusions and exclusions at a glance
Whats included in this tour
Items that are covered in the cost of tour price.
Stay Package Includes: - Stay - Lunch - Dinner & Breakfast - Coracle Ride - Guided Trekking - Forest entry charges and GST 18%.
Jungle Camps & Trail Plans Includes: - Lunch - Coracle Ride - Evening Coffee/Tea - Forest entry charges and GST 18%.
Whats not included in this tour
Items that are covered in the cost of tour price.
Everything not mentioned in Inclusion.
Day 1 :

Click here to expand

12:30 Noon : Check-in
01:30PM : Lunch
04:00 PM : Tea/Coffee
04:30 AM : Coracle Ride
07:30 AM : Campfire and Barbecue
08:30 AM : Dinner

Day 2 :

Click here to expand

06:00 AM : Wake-up call, tea/coffee
06:30PM : Guided trek / nature walk in the wildlife sanctuary
09:30 PM : Breakfast
11:00 AM : Check out
Accomodation
The Camp has 12 Executive tented cottages with attached bath. The Camp which aims to bring out the meaning of roughing it, comes with electricity and water supply. Guests are advised to carry hurricane/solar lamps/ torches to enjoy the clear night air, untouched by the grimy hands of progress.
Jungle Camps & Trails Plan - Weekday : Rs.2900 - Weekend : Rs.2900
Executive tented Cottage - Weekday : Rs.5470 - Weekend : Rs.6370
Seasonal hike applicable on above tariff
Tariffs are per person per night on twin-sharing basis(For single occupancy 30% extra).
Cottage- Bed and Breakfast package at Rs. 1,900.00 Per person
Tariffs are per person per night on twin-sharing basis.
Transfers to & from our resorts are not included in the tariff.
Single occupancy charges are applicable.
Tariff for children (accompanying parents) between 5 and 12 years is 50% discount on the tariff.
Tariff May be changed without prior notice.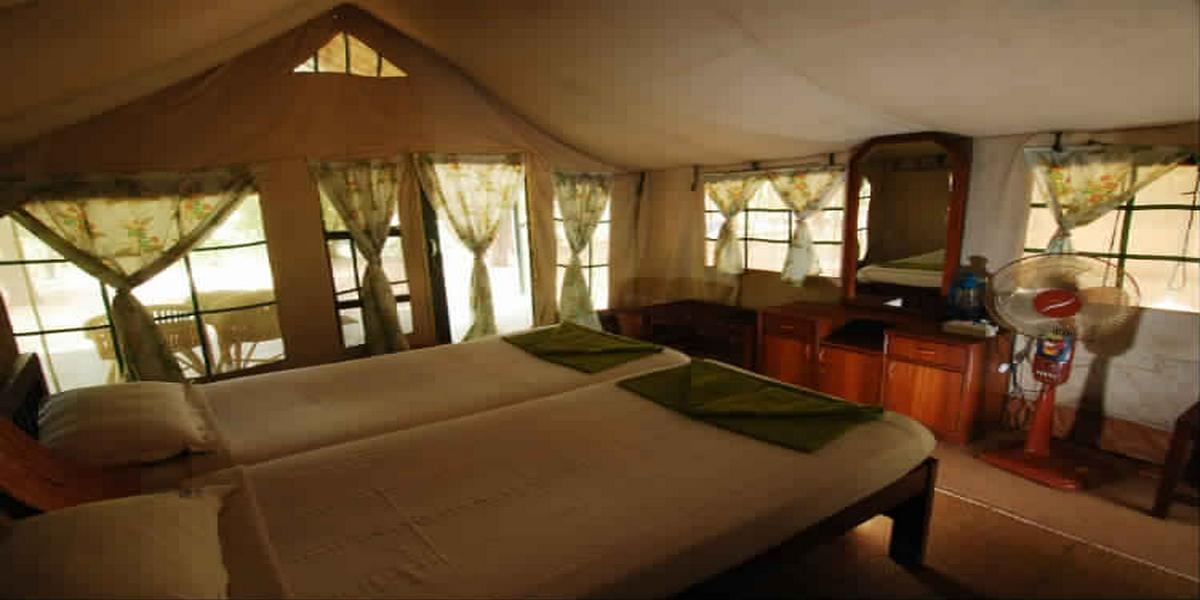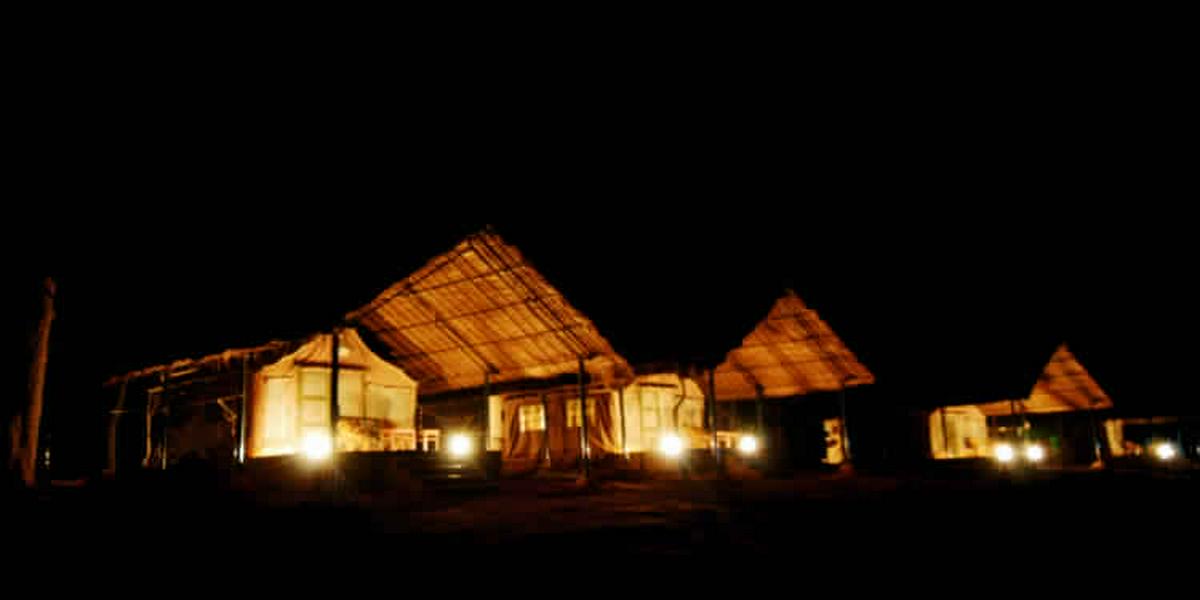 Essential
Dress for comfort. Do avoid bright colours and stick to muted shades of green, black, grey and brown. The more you meld with the background, the better.
Wear comfortable walking shoes.
Avoid smoking - anything can start a forest fire.
You'll be spending a lot of time outdoors. Don't forget your hat, sunscreen, sunglasses, torch, etc.
Avoid plastics. We're really trying to cut down on plastics.
Don't put perfume while going to safari.
PETS ARE STRICTLY NOT ALLOWED
Refund
Life is unpredictable and we understand that sometimes you have to cancel or change your trip dates and it is our endeavor to make it as easy as possible for you. However, please understand that we plan everything including guide fees, permits, accommodation and ration in advance. Therefore, any cancellation means inconvenience and certain losses to the people involved in various stages of the program. Keeping that in mind, our cancellation charges are as below,
Cancellations prior to 30 days from the start of the event: Full refund as cash.
Cancellations between 30 days and 15 days to the start of the event: 50 % refund as cash.
Cancellations less than 15 days to the start of the event: No refund.
Cancellations will be accepted only by email.
Note: We reserve the right to cancel a program before departure in the event of logistical problems arising due to natural calamities, strikes, wars or any other circumstances that make the event inadvisable. In this case, we will refund 50% of the event fees.