Adventurous Thailand Tour (7 Days) from Majestic City (Bangkok) to Beautiful Beaches (Phuket, Ko Samui)
Starting from INR 40000
Thailand, also known as Kingdom of Thailand, is a popular tourist destination across the world. Located in South East Asia, Thailand offers beautiful pristine beaches (Phuket, Ko Samui, Krabi etc.), dense jungles, splendid mountains as tourist attractions. Thailand also offers fantastic cultural experience and great Thai food (especially sea-food), and the topical climate makes it even more great for travel across the year.
Thailand is a back-packers paradise, as well as great destination of luxury experience. From bustling shopping city like Bangkok to beautiful beaches across its islands (Krabi, Ko Samui) to night life of Phuket, Thailand has everything for everyone. All you have to do is keep your eyes open and enjoy what Thailand has to offer you.
Duration

Group Size

Difficulty

Season
Adventurous Thailand Tour (7 Days) from Majestic City (Bangkok) to Beautiful Beaches (Phuket, Ko Samui)
While Thailand has 1000+ things to do, see and experience, one of the popular itinerary curated by Trippyigloo.com for their travelers is the 7 day adventurous tour. Moderately difficult, as we take you through lots of journey across 3 cities (including lots of flights), we help you explore Bangkok, Phuket & Ko Samui in a round circle trip.
Basic Itinerary:
Day0: Start from whichever part (city) of the world you are in and reach Bangkok
Day1: Sight-seeing in Bangkok
Day2: Bangkok to Phuket (enjoy Phuket throughout the day)
Day3: Enjoy Phuket
Day4: Phuket to Ko Samui island (enjoy the sunset and relax at Ko Samui)
Day5: Enjoy Ko Samui (and maybe indulge in some scuba diving etc.)
Day6: Ko Samui to Bangkok (shopping in Bangkok on your last day)
Day7: Bangkok to whichever part (city) of the world you want to head-back to
How to Reach Bangkok
By Air
Bangkok international airport (also known as Suvarnabhumi Airport) is well connected to every part of the world. Either direct or max 2 stops should be able to help you reach Bangkok.
By Road
If you are coming from neighboring citiy or from neighboring countries (like Laos, Cambodia, Malaysia), Bangkok (and Thailand) is well connected. By then it will take good amount of time + border visa formalities, in which case it makes sense to come by Air to make the optimum utilization of time.
The tour package inclusions and exclusions at a glance
Whats included in this tour
Items that are covered in the cost of tour price.
All 6 Day Hotels (3 star) across Bangkok, Phuket and Ko Samui (on twin-sharing basis)
Breakfast included along with hotel stay
Flight from Bangkok to Phuket
Flight from Phuket to Ko Samui
Flight from Ko Samui to Bangkok
One adventure activity like Scuba Diving, either in Phuket or Ko Samui islands
PhiPhi island day-tour in a speed boat
One SPA treatment / massage
Whats not included in this tour
Items that are covered in the cost of tour price.
Everything not mentioned in inclusions list
Flight cost from your city to Bangkok (we can help you book your flight though)
VISA cost (on-arrival, if applicable)
More adventure sports like snorkeling, Bungee Jumping etc. (we can again arrange for the same on request and plan it in your itinerary)
Lunch or Dinner on all the days
Airport to hotel transfer and hotel to airport
Bangkok Shoppers Paradise
James Bond Island @ Phuket View
Accomodation
All 6 days (in twin sharing basis) including breakfast
3 star hotel at premium location (to ensure you have maximum time in the city center and all excitement)
Ko Samui Island Accommodation Resorts Pool View
Ko Samui Island Accommodation Resorts Pool View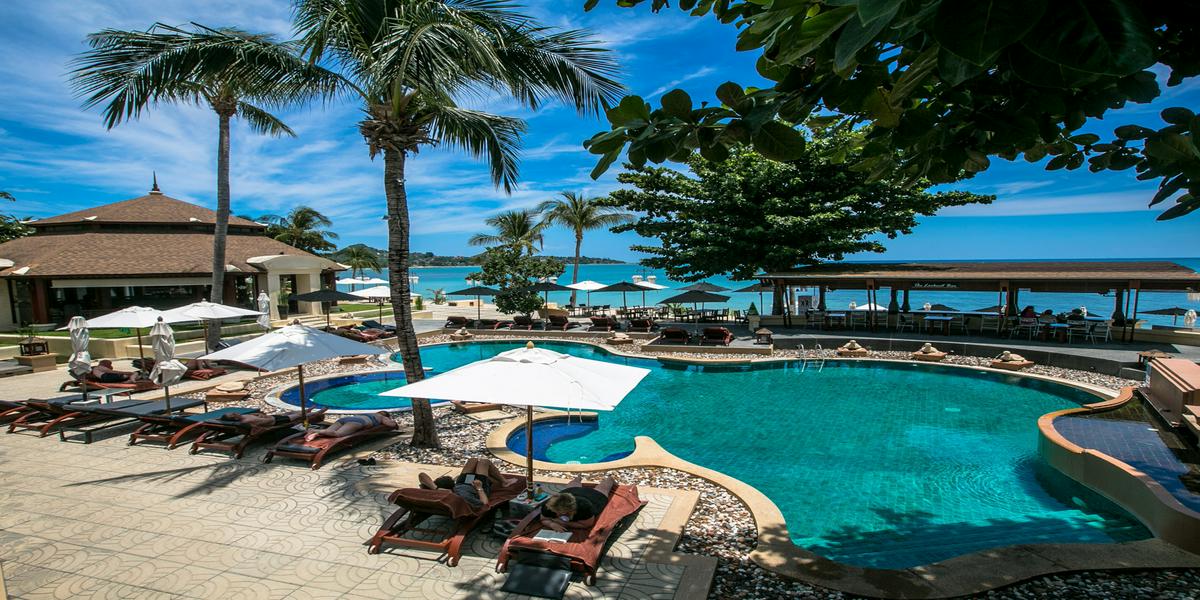 Ko Samui Island Resorts View
Ko Samui Island Resorts View